What I look for in a bicycle
Nov 9, 2016
Here are some key things that I look for when choosing or improving a bicycle.
Pieces
Wheels
Aluminium rims are lighter than steel rims, and brake better in the rain 1. They're not very expensive either (about $80 per rim) 2. I find that only older bicycles will have steel rims, and the better braking is reason alone to change them for aluminium. The weight difference isn't very significant 3.
Frame
Anything with springs or shock absorbers is out. Needs to have braze-ons for the fenders, and rack, bonus if there are bottle cage mounts. The paint should be in okay condition. I like steel because it's ubiquitous and malleable (I respaced my rear forks from 120 to 130 mm a few years ago).
Gear shifting
This should be something that you like to use. Some people like brifters or bar end shifters. I like down-tube friction shifters since they're so easy to repair and are compatible with any arrangement of cogs. My favourite are the Suntour Power ratcheted shifters 4.
Fenders and a rack
For riding in the rain, and for carrying things! I think they're both essential.
Fit
Main variables include where the seat and handlebars are. The bars need to be comfortable (I like drop handlebars). If the bike has a quill-style steel stem it's difficult to move the bars much, so it should be about just right from the start.
Standard parts
My Peugeot is great, but if I were getting another, I'm not sure I would choose a bicycle that uses a non-standard bottom bracket, stem, seat tube, handlebar clamp, etc 5. It's easier if the bicycle follows the ISO standards for parts. Standard wheel and tire sizes are convenient too.
Maintenance
This is very important and makes a huge difference in how the bike feels to ride. Some key things:
Drivechain: I clean and oil the chain every two weeks
Tires: I pump them up every two weeks or so
Brakes: Every couple months I need to tighten the brake cables as the pads wear down. Maybe once a year the pads need to be replaced.
Other things slowly break down or need work For example, I took apart the bottom bracket two years ago to put in new bearings. Cables snap every few years, some things need to be tightened, and wheels need to be trued every couple years. Anything metal with a developing fissure needs to be replaced immediately since it's an impending catastrophic failure (the stem, parts of the frame, etc).
Accessories
Good lights are important. I like USB-rechargeable ones 6. A non-circular-keyed U-Lock is also a must 7. I use a Kryptonite Evolution Mini since it has a nice mount for the bike.
My bike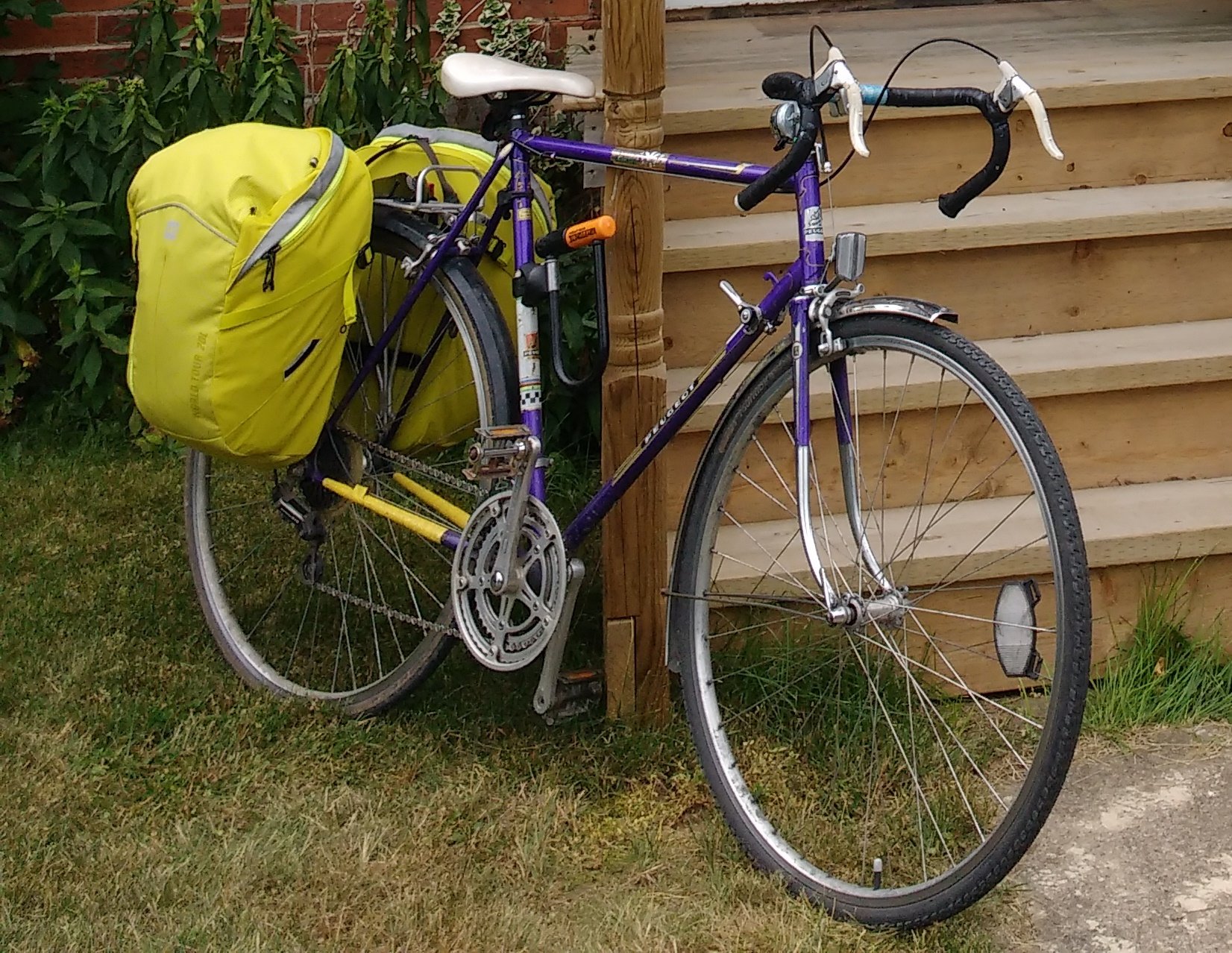 My current bicycle is a 1970-ish Peugeot UE-8. It has a worn down sticker on the seat tube for its bicycle registration for the city of Vancouver for 1970 – 1971. Almost every part been replaced though (except the brake levers, bars, rear brakes, front fork, front fender, and one quick-release lever).