Martin Schlachter and Justina Tschosick
My great-grandfather's grandparents, Martin Schlachter and Justina Tschosick, immigrated to Canada from Europe at the beginning of the 20th century. This page collects everything I know about them. I'll keep this updated when I discover something new.
The one personal anecdote I have about Martin and Justina comes from a brief family history from the collection of Jacquie Doran: "A little tiny house was constructed in the back yard of [their son] Anton's house. Anton's children all had fond memories of their Grandparents living there. Grandma Justina always had candy and Grandpa Martin sat with his legs crossed, smoking his pipe."
I've organized this page by sources in chronological order. Click any image for the full version. If you'd like to share something that I've missed, please contact me!
Table of contents:
Russian passport (1890)
Source: scan (2013) of copy from collection of Jacquie Doran, from the original.
Martin and Justina used this passport when they moved from the Russian Empire to Romania around 1890. The cover is inscribed with Martin's name, and the first page is signed by Martin. The first page indicates that the document has 24 pages (24 страницы) and is an passport (ЗАГРАНИЧНЫЙ ПАССПОРТ, literally Overseas (or Transnational) Passport, often called a Foreign Passport). The signature block has instructions in Russian, German, and French ("Signature of the bearer").
The second page is a description of the bearer in Russian:
Предъявитель сего Поселянин Мартын Іосифович Шлахтер с женой Юстиной, детьми: Антоном, Иосифом, Анной, Елизаветой и Розой отправляются за границу, во свидетельство чего и для свободного проезда дан сей паспорт с приложением печати.
The declaration is signed at Odessa, September 18, 1890 (В Одессе, Сентябрь дня 18 1890 года). A stamp is affixed which reads "Gradonachalnik of Odessa, Counter Admiral" (Одесский градоначальник Контр-адмирал) with the signature of the official. (Note that some letters look different between the font on this webpage, and the handwriting and italic script used inside the passport.)
The description of the bearer is subsequently repeated, in German (page 4) and then in French (page 5).
My translation from French: "The bearer of the present document, villager Martin Schlachter, goes abroad with his wife Justine and his children: Antoine, Joseph, Anne, Elisabeth and Rose, in faith of which this passport, confirmed by the affixed seal, is given for free passage in foreign countries." Again, the declaration is signed at Odessa, September 18, 1890. Note how "Anton" is written in German, "Antoine" in French.
The Russian text includes one detail that is missing in the French and German translations: in Russian, Martin's name is accompanied by a patronymic, as "Martin son of Joseph" (Іосифович, in latin script: Iosifovich). His full name in cursive in the Russian description reads: Мартын Іосифович Шлахтер; in latin script: Martin Iosifovich Schlachter; i.e. Martin (son of Joseph) Schlachter.
Passport stamps follow, along with a list of family members and other contacts in the USA and Canada. These include their son Anton (Balgonie, Saskatchewan) and their son-in-law John Leibham (Plantersville, Texas, USA, wife of their daughter Agnes).
I'm grateful to Olivia Hutchinson and to Reddit users rsotnik and mDeltroy for their help with the Russian text.
Military booklet of Anton Schlachter (1894)
Source: scan (2013) of copy from collection of Jacquie Doran.
Martin and Justina's son Anton entered the Romanian military in January 1894, serving until some point before his departure from Europe in 1905. His service was recorded in a small booklet which begins with his biographical details. The booklet lists his parents as Anton (a mystery since this name does not appear to be used elsewhere by Martin) and Justina, apparently residing in Chirage.
Agricultural exposition medal (1898)
Source: scan from the collection of Judith Chrystal of the original.
A medal awarded to Martin Schlachter ("M. Slachter"), with the inscription: "The Exhibition from the Year 1898, Constanța" (Romanian: Expositiunea din anul 1898 Constanța). A 2016 article by R. G. Dumitrescu in Revista de Cercetari Arheologice si Numismatice describes the medal as follows (translated from Romanian):
MEDAL OF THE AGRICULTURAL EXHIBITION FROM CONSTANŢA, 1898. Engraver: M. Carniol Jr. [Mauriciu Carniol]
Front: Semicircular legend: CAROL I. REGE AL ROMANIEǏ [CAROL I. KING OF ROMANIA]. The bust of King Carol I with mantle and decorations, in profile towards the left, above on two laurel branches, and incised below: CARNIOL FIUL.
Reverse: The legend on three lines: THE EXHIBITION / FROM THE YEAR 1898 / CONSTANŢA — separated between row two and three by an incomplete cartridge [for the name of the recipient]. The legend is surrounded by a wreath made of bay leaves, vines with grapes, having in the centre, above, a shield crowned with the symbols of agriculture, and top-left a head of a horse, in the top-right that of a calf. At the bottom are placed five shields with: a ram's head, a sheaf of wheat with fish, a ship with three sails, two dolphins, and a ship's wheel. Under these coats of arms is an iron plow, all in a circle of pearls. Diameter = 65 mm; Mass = 111.64 g.
The same paper explains that medals of this type were created to commemorate events sponsored by the Royal House of Romania (though the same engravers producing medals for official events would often sell unauthorized 'popular medals'). Family tradition is that Martin was awarded the metal in an agricultural contest, possibly for 'best wheat'.
Ship manifest for the SS Koln (1902)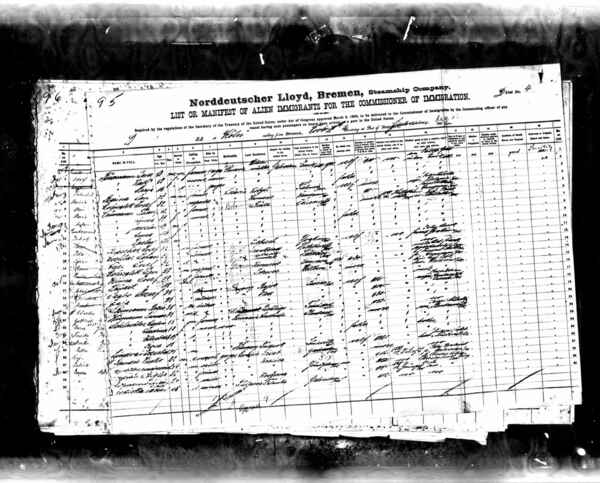 Source: Selected Passenger and Crew Lists and Manifests. National Archives, Washington, D.C., via Ancestry.com. This source was brought to my attention by Alan Schlachter.
Martin and Justina immigrated to the Americas aboard the SS Koln, a ship operated by the Norddeutscher Lloyd Steamship Company. They left Bremen in the northern German Empire (probably the port of Bremen, 50 km downstream of the city itself), arriving in Galveston, Texas, USA on December 12, 1902.
Martin declares himself to be 55 years old (see discussion on birth years), a farmer, able to read and write. He is declared as a Romanian national, with his last residence at Constanța, Romania (roughly 2000 km from Bremen!), and he indicates that he intends to join his son in Plantersville, Texas. Justina is declared as age 50, unable to read or write. The family was travelling with their youngest daughters, Elizabeth (17) and Rosa (15). The manifest notes that Martin was carrying more than $30 (roughly $1000 USD in 2020) and had paid the fare for the family.
The ship, the SS Koln, was built in 1899, and was the second second ship of this name operated by Norddeutscher Lloyd. The ship is described as follows:
The "Koln" of 1899 was a 7409 gross ton vessel built in 1899 by J.C.Tecklenborg of Geestemunde for Norddeutscher Lloyd. Her details were - length 428.9ft x beam 54.3ft, one funnel [smoke-stack], two masts, twin screw and a speed of 13 knots [25 km/h]. There was accommodation for 120 [second]- and 1,850 [third]-class passengers. Launched on 24/7/1899, she sailed from Bremen on her maiden voyage to Galveston on 20/10/1899. On 21/12/1899 she commenced her first voyage from Bremen to Baltimore, and on 4/1/1902 her first run from Bremen to New York. Subsequently she ran from [B]remen to Baltimore or Galveston, occasionally to or via New York.
— Posted to the Emigration-Ships Mailing List by Ted Finch - 2 October 1997 (see also quote from North Atlantic Seaway)
Saskatchewan homestead application (1903)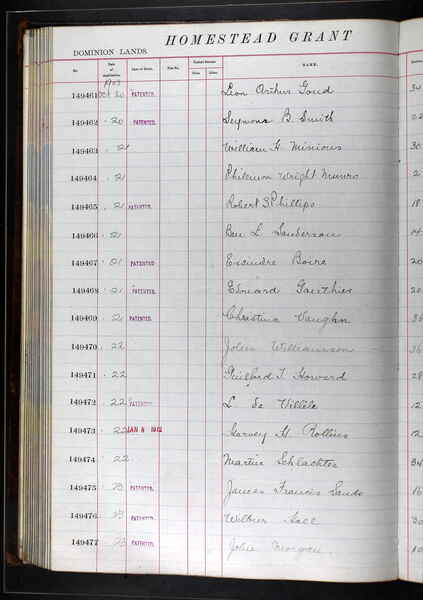 Source: Manitoba, Saskatchewan and Alberta, Canada, Homestead Grant Registers, 1872-1930 from Ancestry.com.
Beginning with the Dominion Lands Act of 1872, the Canadian government offered land ownership in Western Canada to those willing to settle and cultivate it. Martin and Justina formally began the application process in Saskatchewan in October of 1903. While I haven't found their actual application, this register shows that their application was received. Their original application number was 149474.
The plot of land was the South-West quarter-section of Section 34 in Township 1, Range 12 West of the 2nd meridian, near modern-day Torquay, SK, centred around 49.079460, -103.531347 (alternate link).
Their next Canadian homestead application (in Alberta) indicates that they abandoned this plot.
North Dakota homestead application (1904 – 1910)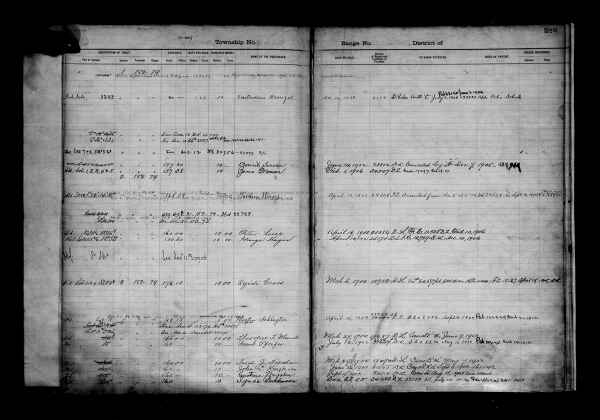 Source: United States Bureau of Land Management Tract Books, Dakota Territory, Vol 74, page 231, via FamilySearch.org.
After leaving Saskatchewan, Martin and Justina made a homestead application in North Dakota. Martin appears in the land tract register as Martin Schlagter, application date ('date of sale') April 15, 1904, for a homestead ("Hd."). He paid $5, presumably part of the application fee. According to the register, he was granted title to the land (a 'land patent') on September 4, 1909. This was recorded through land patent number 122219, issued March 31, 1910.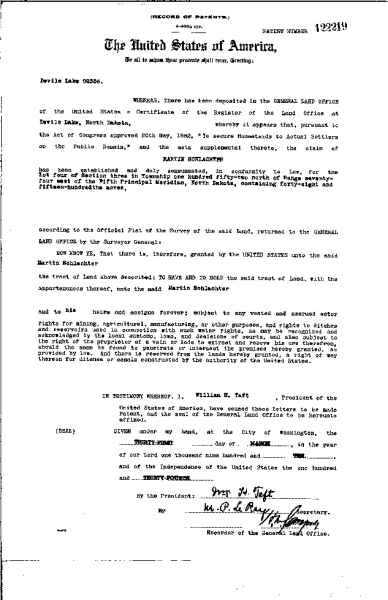 Source: United States Bureau of Land Management Land Patents database, BLM serial number NDDL 0002356, accessed through glorecords.blm.gov.
The actual land patent shows the grant of Lot 4 of Section 3, Township 152 North of Range 74 West of the Fifth Principal Meridian, North Dakota, to Martin Schlachter. The Section is centred roughly on 48.01399, -99.99462, in modern-day Pierce County, North Dakota. The patent is dated March 31, 1910.
It is possible that this lot was sold, since Martin and Justina left North Dakota shortly after obtaining the land patent. Their next destination was Alberta, departing North Dakota sometime before April 1910.
United States naturalization (1904 – 1909)
In parallel with the North Dakota homestead application, Martin also applied to become an American citizen. The process was as follows:
In general, naturalization was a two-step process that took a minimum of five years. After residing in the United States for two years, an alien could file a "declaration of intention" ("first papers") to become a citizen. After three additional years, the alien could "petition for naturalization" ("second papers"). After the petition was granted, a certificate of citizenship was issued to the alien.
— U.S. National Archives and Records Administration, "Naturalization Records", Sept 2020.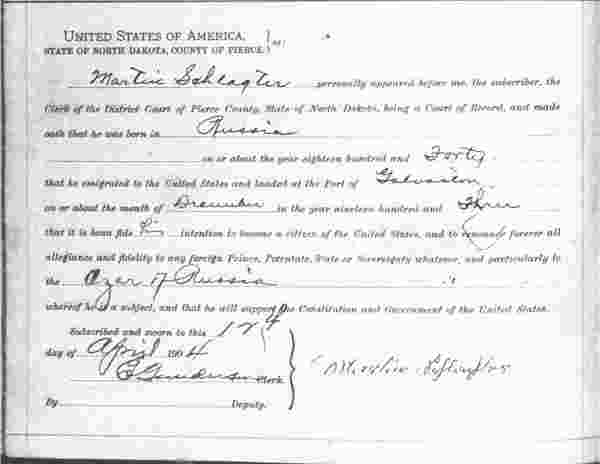 Source: State Historical Society of North Dakota State Archives. Naturalization records for Pierce County, Volume D-2, Page 226.
Martin's first papers were filed in Pierce County, North Dakota on April 12, 1904. His name is recorded as "Martin Schlagter". He indicates that he was born in Russia, and first arrived in the United States in Galveston, Texas in December 1903 (actual year: 1902). While the interval between arrival and the filing of this Declaration of Intent was less than two years, "prior to 1906, decisions regarding citizenship applications and recording requirements were left up to local judges" (State Historical Society).
Source: State Historical Society of North Dakota State Archives. Naturalization records for Pierce County, Volume P-10, Page 125.
The Petition of Naturalization ("second papers") again gives his name as Martin Schlagter, and indicates that he resides in the town of Rugby or Brazil (today a ghost town), North Dakota and is a farmer. Martin's birth date is given as May 4, 1840, at Odessa, Russia. He indicates that he immigrated from Odessa on November 15, 1902, arriving in Galveston on the vessel Carl the Great (I have not been able to find a passenger vessel of this name).
Justina is listed as Justina Schlagter, born in Russia and residing on their farm. Martin indicates that he has eight children, and lists their birth dates, place of birth, and current place of residence as follows (handwriting sometimes unclear):
| Name | Born | Place | Residence |
| --- | --- | --- | --- |
| Margaretha | Sept 25, 1865 | Odessa, Russia | Galveston, Texas |
| Agnes | Oct 12, 1867 | Odessa, Russia | Galveston, Texas |
| Katherina | Nov 13, 1869 | Odessa, Russia | Galveston, Texas |
| Anton | July 25, 1871 | Odessa, Russia | Balgonie, Saskatchewan |
| Annie | Sept 29, 1875 | Odessa, Russia | Balgonie, Saskatchewan |
| Elizabeth | Dec 17, 1877 | Odessa, Russia | Burwick, North Dakota |
| Rosie Marie | July 15, 1879 | Odessa, Russia | Balgonie, Saskatchewan |
| Joseph | June 13, 1881 | Odessa, Russia | Burwick, North Dakota |
Martin and Justina's eight children are listed in the order shown in other sources (except Joseph, who would be between Anna and Elizabeth). However, Anna, Elizabeth, and Rosa are here listed as five — ten years younger (e.g. in SS Koln manifest, Rosa listed as 15 years old in 1902, birth date calculated as 1887, rather than 1879 as shown in this document).
Martin is declared as not able to speak English (the word "not" added to the form in hardwriting). He claims that he has resided continuously in the United States for at least five years, starting December 20, 1902, and that his residence in North Dakota began March 15, 1903.
Two witnesses provide an affidavit that they know Martin to be "of good moral character", and that he has lived for five years in North Dakota. The witnesses are Jacob Sattler (likely the husband of their daughter Elizabeth) of Burwick, ND, and Joseph Voeller of Brazil, ND.
The Declaration of Intention was submitted February 3, 1909. Martin took the Oath of Allegiance and was admitted as a citizen of the United States on June 7, 1909.
Alberta homestead applications (1910 – 1917)
Source: Alberta Homestead Records 1870-1940 at Archive.org and Ancestry.com, via the Alberta Homestead Index.
The first form to start the homesteading process was an Application for entry. At the time that Martin applied in Alberta in April of 1910, the eligibility requirements were as follows:
Male over 18 years old, or female sole head of family
Intention to become a British subject (if not already)
In order to gain the title for the land, a plot of 160 acres often called a homestead, Martin would need to:
Cultivate the land for three years
Commence cultivation within six months of arrival
Crop (harvest) at least 5 acres in the first year, and 15 in the second
Build a 'habitable house' before the end of the second year, and reside in it from the beginning of the third year
Reside within a distance of nine miles of the homestead
Finish the naturalization process to become a British subject
In his application for entry, Martin declares that he is 69 years old and a Russian subject, born in southern Russia, and the he intends to settle the homestead with his wife (age 64) and (presumably) a son aged 37 (Anton, born April 25, 1872). He notes that his last place of residence was North Dakota and that he is a farmer by occupation.
The homestead that he applies for is the North-East quarter-section of Section 5, in Township 8, Range 8 W of the 4th Meridian, near modern-day Etzikom, Alberta (centred on 49.618591, -111.054464, alternate link).
In May of 1910, Martin filed for an application to abandon this homestead, citing the sandiness of the land and a coulee (a steep valley) that cut into the property. In the aerial map linked to above, you can see that the coulee takes up roughly the bottom third of the quarter-section. He claims that he was shown the wrong property before making the application, and his cancellation was accepted in June 1910.
He files his final homestead application in October 1910, with essentially the same information as before (age 70 now, his birthday was in April), but this time excluding Anton from the application, and indicating either that eight children under the age of 12, or one child age eight, will be joining them. I think that this time he misunderstood the question as asking how many children he had, since rather than listing Justina's age, he simply lists '1'.
This homestead is the South-West quarter-section of Section 7 in Township 8, Range 8 W of the 4th Meridian, again near modern-day Etzikom, Alberta. This plot is roughly one kilometre west of the previous (abandoned) one, and is centred on 49.633070, -111.077030 (alternate link).
Martin's homestead file is silent until his death in 1916, listed as March 24 in a letter from the court (Aug 27, 1917) managing his estate.
An application for 'patent' (title to the property following the initial homesteading application) follows, indicating that they moved to the property in November 1913. Previously to this, they had lived with their son (Anton), and the application notes that they had eight children. The form references a certificate of naturalization from 1913 which had been presented with the application. Since 1913, they had cropped 44 acres. Their home (made of lumber) on the homestead measured 10 x 12 feet and had cost $150, and they had added a well ($15) and $30 of fencing. Justina signs the form with a cross. Two sworn statement are attached from neighbours who attest to the statements in the application for patent.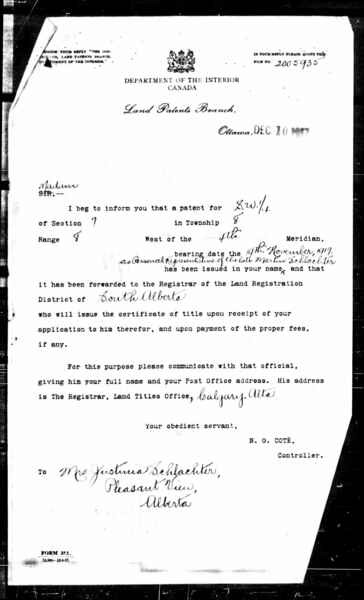 A letter dated Dec 10, 1917 informs Justina that her application was accepted.
Census of Canada (1911)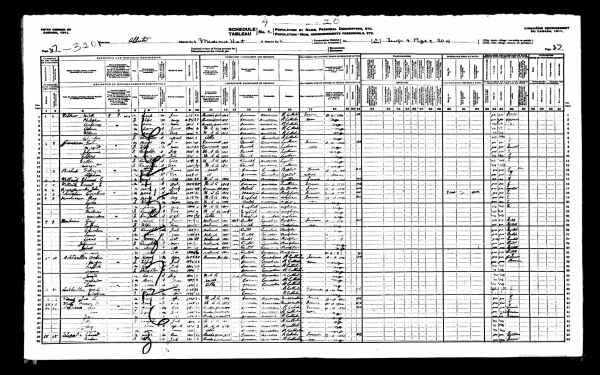 Source: 1911 Census of Canada, Medicine Hat district, Sub-district 20, page 37 via Ancestry.com.
Martin and Justina were living with their son Anton (and farming their own nearby homestead) when the census began in June 1911. In the census, their birth months are listed as May 1840 (Martin) and April 1845 (Justina). Oddly, their birth country, year of immigration, and year of naturalization are not recorded. They are listed as German, Roman Catholic, and Martin a farmer. Martin is listed as able to read and write (unclear for Justina), and it appears that the family speaks German at home (unclear for Martin and Justina, clear for Anton).
Anton's homestead was in Section 1 in Township 9, Range 9 W of the 4th Meridian, the Section centred on 49.706028, -111.099592. His homestead is across the road from the cemetery where Martin and Justina are buried, about 10 km from their own homestead. As recounted by Tony Schlachter, the small house on Anton's homestead where Martin and Justina had lived was eventually donated to St. Anthony's Parish, and used as a coal shed. When the church closed, the building was given to Anton's son Timothy and moved to his farm.
Canadian naturalization (1913)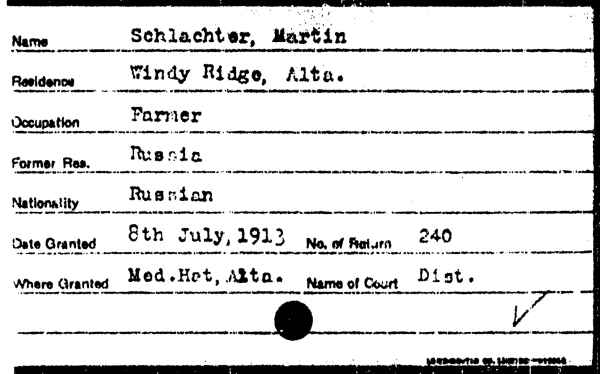 Source: card index of naturalization and citizenship records, 1854 – 1917, Immigration, Refugees and Citizenship Canada, copy from collection of Jacquie Doran.
Original records of naturalization in Canada before 1917 survive only as a card index maintained by Immigration, Refugees and Citizenship Canada. When Martin became a British subject in 1913, his eligibility was determined by the 1881 "Act respecting Naturalization and Aliens" (Statues of Canada (S.C.) 1881, Chapter 13 — this seems only accessible through academic libraries). Naturalization required that one live in Canada for at least three years, and then make an affirmation of residence and an oath of allegiance before a judge, commissioner of oaths, notary, etc. A record of these, with supporting residency documents, would be submitted to a court, which would then issue a certificate of naturalization.
Justina became a naturalized British subject through Martin, as the Act states that: "A married woman shall, within Canada, be deemed to be a subject of the State of which her husband is for the time being a subject" (S.C. 1881, c 13 (26)). Children would only be naturalized with their father (or widowed mother) if they became a resident of Canada "during infancy."
Photo beside home (circa 1913 – 1916)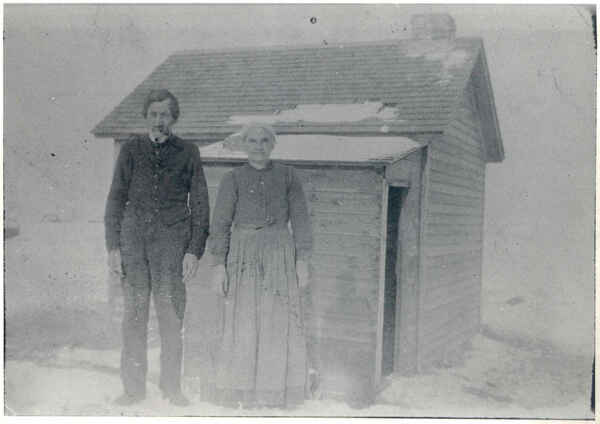 Source: user HDon3 on FamilySearch.org. See also a copy from Alan Schlachter.
This photo is of Martin and Justina beside their home on their own homestead (confirmed to Tony Schlachter by their grandson John Schlachter). According to their homestead application, the house measured 10 × 12 feet and was built in November 1913. The small building would have been easier to heat in the winter.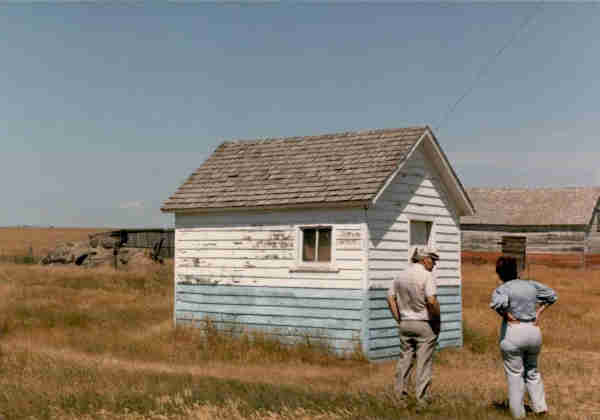 Undated photo of Martin and Justina's homestead home (1990s?). Tony notes that the chimney had been removed by their grandson Timothy Schlachter. Source: collection of Tony Schlachter.
Portraits (circa 1913 – 1916)
Source: collection of Tony Schlachter. Scan (2013) of photographs (1970) of the originals.
As reported by Tony Schlachter, these large, oval portraits (nearly three feet tall) would have been created from smaller originals, either from new or from existing photos. This may explain the very strong resemblance between these portraits and the photo of Martin and Justina beside their home. Family legend also has it that Martin had a pipe in his mouth in the original (as in the homestead photo) but that this was edited out (note the inconsistent colour of his beard on his left side). (Update 2023: apparently these are called "solar enlargements" and are indeed modified photos)
Census of the Prairie Provinces (1916)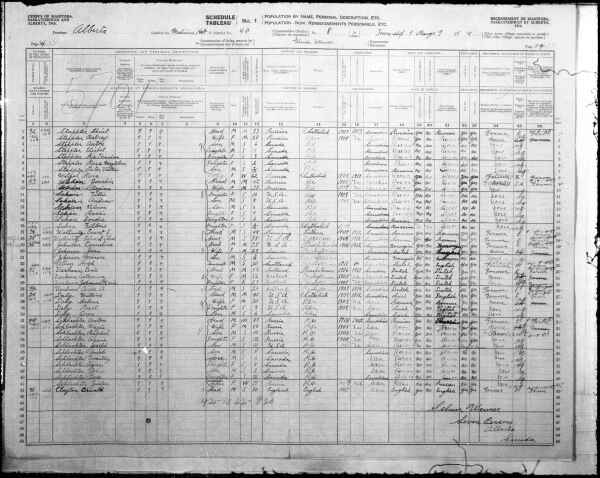 Source: Census of the Prairie Provinces (1916) via Ancestry.com.
The 1916 census began in June 1916 and shows Justina (here listed as Justine) living with her son Anton (Martin had passed away in March). She is listed as being 71 years old, widowed, born in Russia, Roman Catholic. She is declared as having immigrated to Canada in 1909, not speaking English nor French (only Russian), and able to read and write.
United States Census (1920)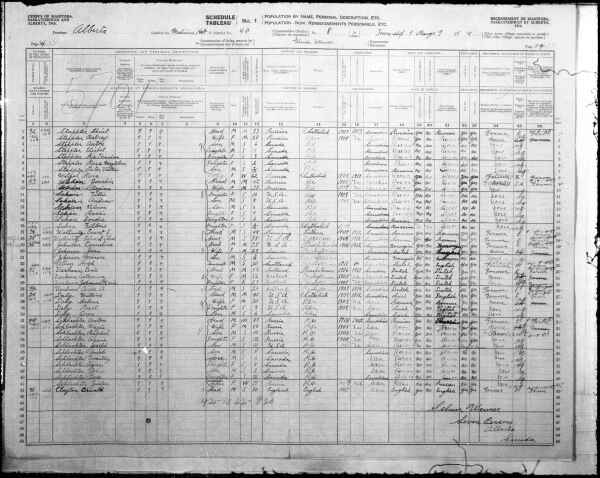 Source: United States Census (1920) via Ancestry.com.
The 1920 United States census occurred in January of 1920. Justina (listed as Kristina) appears in the census as living with her son Joseph in Pierce County, North Dakota. She appears as 74 years old at her last birthday, born in Russia, speaking German. No year of immigration or naturalization (in the United States) is listed. Both her mother and father are listed as born in Russia, speaking German, and it is indicated that Justina does not speak English.
Headstones in St. Anthony's Cemetery
Martin and Justina are buried in the cemetery of St. Anthony's Catholic church, opposite their son Anton's homestead near Etzikom, Alberta.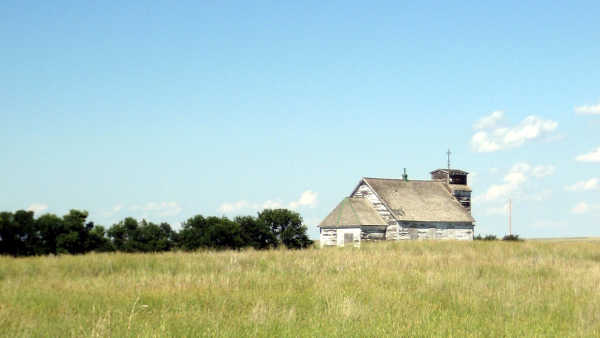 St. Anthony's Church as seen from the cemetery (2013).
The cemetery opened in 1911. Construction of St. Anthony's Church began around 1912, with its last service in 1984 (History of St. Anthony's Church by Anthony Stappler). See also a two part series about the church on the Schlachter Family History blog.
Miscellaneous
Justina's surname
There are several spelling variants for Justina's last name, including Joseik, Josiek, Gosig, Josik, Josep, and finally Tschosick. This is complicated by the fact that she typically appears under her married name, and did not herself seem to read or write. Her first name is also sometimes spelled Justinia or Justine.
Martin and Justina's birth year
Ages given in various documents give varying birth years. I use April 15th as Martin's (traditional) birthday, while Justina's birthday is possibly April as well (based on the 1911 census). Family tradition is that Martin and Justina hoped to improve their chances in the immigration process by significantly under-reporting their ages (as see on the ship manifest). Here's a summary showing the different calculated birth years based on the ages given in each source:
| Source | Martin | Justina |
| --- | --- | --- |
| Manifest of the SS Koln | 1847 | 1852 |
| US naturalization | 1840 | — |
| Homestead application April 1910 | 1840 | 1846 |
| Homestead application October 1910 | 1840 | — |
| 1911 census | 1840 | 1845 |
| 1916 census | — | 1845 |
| 1920 census | — | 1845 |
| Death certificate | 1840 | 1842 |
(Footnote: if you're interested in reading more, check out the Schlachter family history blog.)